MapleStory Reboot Meso Nerfs
But that's because KMS Reboot isn't that much of a popular server to begin with. In fact Reboot is suppose to be a bit harder than regular servers, but then GMS having Blackgate changed it into an endless farming grind.
The main problems with the game are imbalances and an indefinite amount of cheaters that are either hackers/botters/marcoers. We haven't had a SINGLE BUFF that was GMS exclusive. Some other examples are the recent nerfs to Jett (wait, why?) and the already-ended event Choco Power!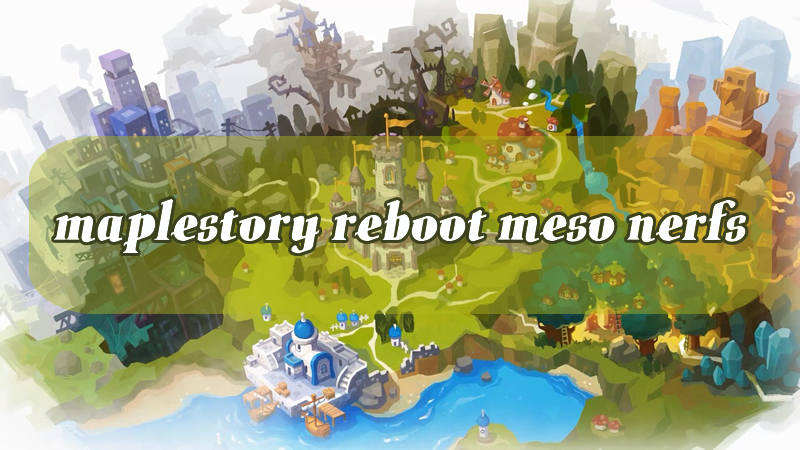 Many people fled to Reboot due to the game not being properly catered to them due to such imbalances not being resolved. However I always made the argument what if they hurt Reboot? The reasons why I didn't go to Reboot was the fact I already have a starter character in Scania and it's basically running away from the problem. You don't have to be a genius to figure out that people who have Frenzy Totems, Black Swordsman/Beater Medals, or Monolith skill in Reboot to be big time exploiters of a certain hack that made unobtainable items/skills obtainable.
Look at the forums bug reports, technical support, suggestions feedbacks and impressions, customer support. Resolution is something hard to come by these days if it's not a massive game-breaking issue. Client and server stability has been an issue for months since the previous Anniversary (Maple's Eleven?) and Post-V Patch. I honestly don't care if it's due to the incompetence or poorly handled responsibility of Nexon America or Korea. It simply needs to be looked into and have whatever barriers blocking it to be dealt with.
There is already some form of understanding that not everything works for our region GMS in comparison for KMS. Such examples are Hekaton, Mesos to Maple Points, Flames of Rebirth/Additional Options, 16-25 Star Force. But how about making certain features more accessible such as turning Hekaton to a regular boss, having more accessibility options for Reward Points, or revisions to Star Force as GMS exclusive. That's only the tip of the ice berg.
Just because GMS doesn't get it doesn't mean it should be left that way. I honestly feel that the game is severely lacking important balances, exclusive features, and moderation of the game that can help benefit both Reboot and Non-Reboot servers. This is why MapleStory is dying in North America and other GMS serviced areas.