MapleStory Nova Mage/Archer Guide
Hi, guys, welcome to ms2store, today, I want to share some special ways for a more powerful Nova Mage and Nova Archer class. With my methods, you will find that Nova Mage/Archer are Strong race in the game.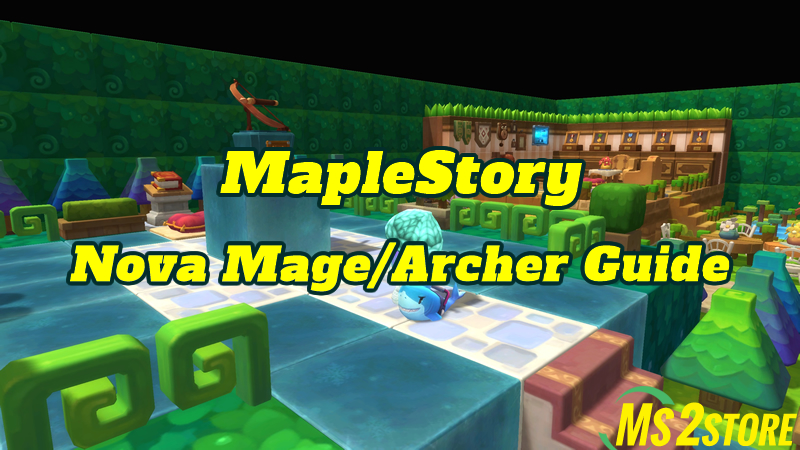 Nova Mage Possibilities
1. Nature Mage/Sage
-Backstory(really Rough, not all that well fleshed out yet) : A Nova character (I imagine as a girl with my drawing concepts I have...will upload later) is in the woods, when they get attacked by a surprise group of...Specters! Oooh scary. The character is defenseless...but a large wall of plants comes and stops the Specters. The Nova character is rescued by a Tree spirit (or Verdant/High Flora) and taken away to a "Tree" house. The Spirit offers her its strength if the character will protect Grandis from threats. They agree and begin to grow their strength.
-Basic Skill ideas: Uses the powers of stone, water, and plant...the powers of Nature. Main Weapon Booster Skills would be a Wand, secondary is a "Magic Circle" carrying magical runes on it. Appears similarly to a shield, but different stat make-up.
2. Rune Master (Not as well thought out right now)
-Backstory: a Nova scholar studying magic. They find themselves delving into hidden magic, and actually sneak into Heliseum to steal a book. Opening the book causes quite the ruckus and they end up pulled away back to Pantheon. The Book won't leave you alone...so you start using it to grow stronger. Eventually the book will show you events (possibly backstory on Grandis, Magnus, etc) as if it were trying to speak to you.
-Basic Skill Ideas: Uses spell book to cast advanced spells using Arcane Magic. Spell Book (unique weapon) with a secondary as a "Magic Circle" to help harness the powerful magic contained in the spell book. First secondary is gained at level 30 when you start learning "Rune" spells which may require a simple combo of sorts...or just being skills that are changed with certain buffs/stances.
Nova Archer Possibilities
1. Bard (How has this not been done yet...even Mabinogi has a Bard class)
-Backstory: a Nova (boy in my concept art) with a talent for his harp. Playing music makes him a bit of an odd-ball compared to other Nova kids, but one day...someone breaks his most special of harps. He goes to the edge of Pantheon in anger...where a stranger presents him with a strange Bow-harp. The Stranger leaves...only asking him to use it carefully...and humming a little tune to himself.
-Basic Skill Ideas: Musical themed skills. Maybe have party buffs to either strengthen the party or enhance training (like HS) Main weapon is a Bow-Harp (unique weapon) combined with a Music Scroll for secondary (Whats a bard without some music).
2. Sky Splitter
-Backstory: pending right now
-Basic Skill ideas: Uses the Nova power of flight to do some impressive archery stunts. Main weapon is a Bow, with a secondary weapon being "Wing Armor".
You can get not only useful maplestory 2 news and guide but also affordable maplestory 2 mesos from ms2store! With our support, you will enjoy more fun and have a better experience in the game!